Chainlink staking early access went live on Dec. 6, and over $75 million worth of LINK tokens have been staked in the first 24 hours, according to Etherscan data.
Chainlink staking is live.
According to the announcement, staking is integral to Chainlink Economics 2.0. Through staking, community members and node operators can earn 4.75% rewards by increasing the security of the oracle services.
"By committing LINK tokens in smart contracts to back certain performance guarantees around oracle services, the Chainlink ecosystem can expand to secure greater amounts of value over time."
Meanwhile, each address can only stake 7,000 LINK tokens, and the staking pool is capped at 25 million LINK. Of this amount, 22.5 million is for community stakers, while the node operators get 2.5 million –the pool limit will be expanded in 2023.
Over $75 million staked.
Lookonchain reported that over 2,600 addresses participated in the staking activities during the first nine hours; 950 of these addresses staked 7,000 LINK tokens, while 725 addresses staked less than 1,000 LINK. As of press time, the addresses have passed 3,000.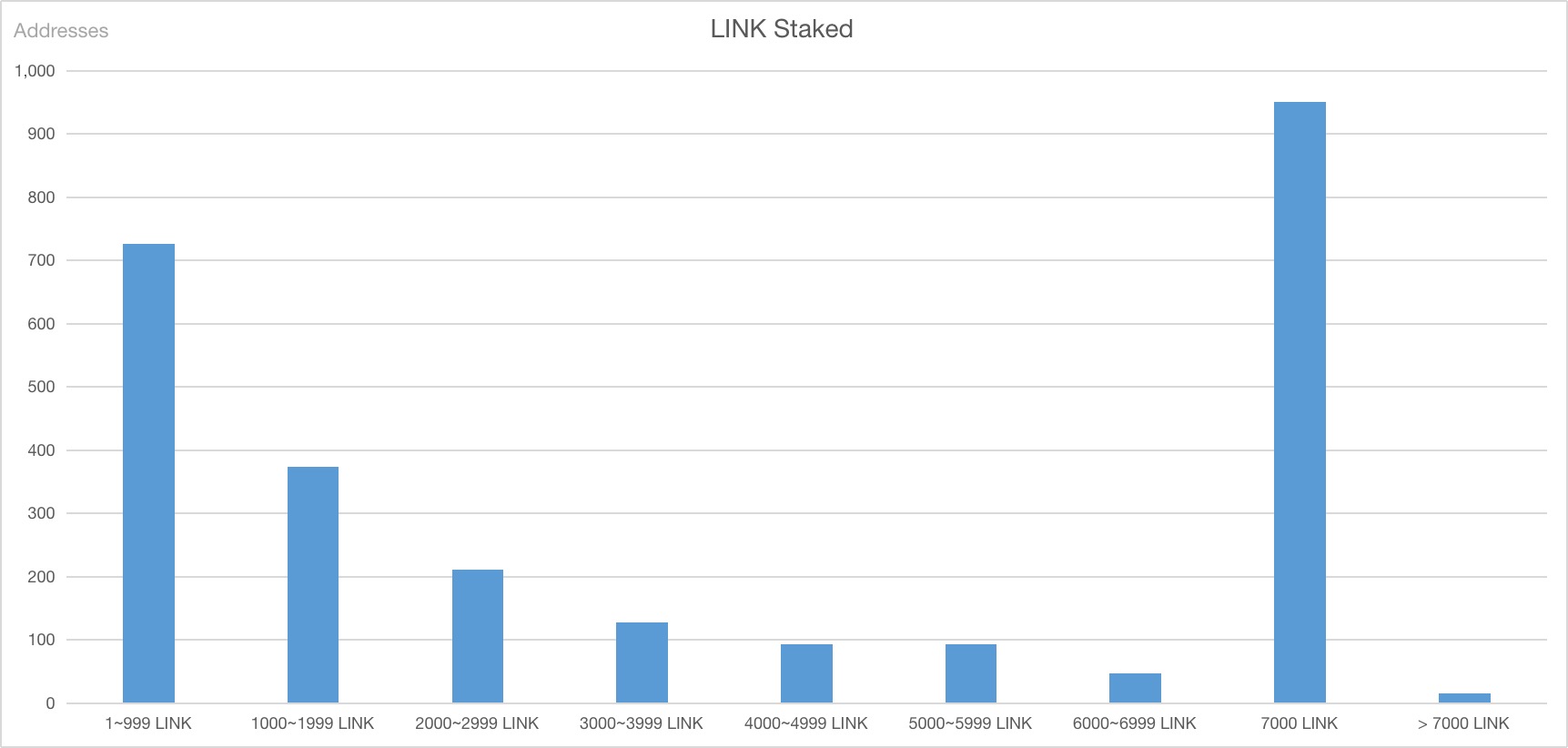 Meanwhile, Chainlink's community pool shows that 9.8 million tokens have been staked, and early access will end within the next 32 hours.
.@chainlink staking v0.1 has officially gone live today.

Over the past 2 weeks, nearly 17.5M $LINK has been moved off exchanges in anticipation of this catalyst. pic.twitter.com/9fYg9MNYpH

— Delphi Digital (@Delphi_Digital) December 6, 2022
The high turnout is not surprising, given that the feature was highly anticipated. Delphi Digital noted that in the two weeks leading to its introduction, holders moved almost 17.5 million LINK from exchanges.
LINK down 6%
Chainlink's LINK price has not reacted positively to the introduction of the staking feature, continuing its recent poor price performance.
CryptoSlate data shows that LINK fell by 5.93% over the last 24 hours to $6.83753 as of press time. On the seven days metric, LINK has dropped by over 8% and over 20% in the past month.
Lookonchain reported that whales had aggressively accumulated the token despite its poor price performance.
On Dec. 5, the on-chain investigator reported that a giant whale (institution) accumulated 14.3 million LINK ($107.6M) from Binance in the past two weeks at an average holding cost of $7.2. 
1/ Whales are accumulating $LINK recently.

– A gaint whale (institution) accumulated 14.3M $LINK ($107.6M) from #Binance in the past 2 weeks.

– 0xd51b bought 284,496 $LINK ($2.15M) from #Uniswap on Nov. 30.

– 0xe6a5 bought 66,723 $LINK ($504,427) from #1inch on Nov. 30.
👇👇

— Lookonchain (@lookonchain) December 5, 2022