Several crypto-related stocks have seen their values plunge to new record lows despite Bitcoin's (BTC) value gaining upward momentum over the past 30 days.
GBTC discount rises to above 50%
Grayscale's Bitcoin Trust (GBTC) traded at a record discount rate of 50% on Dec. 13 following the US SEC's defense of its refusal to approve the conversion of the trust into an exchange-traded fund (ETF)
According to Google Finance data, its shares price is up 3.70% in the last 24 hours to $8.40 as of press time. It is down 6.25% in the previous 30 days and 41.5% in 6 months. On the year-to-date metric, its value has decreased by 75%.
Speculations around the financial health of its parent company, Digital Currency Group, have grown following recent events in the crypto space.
GBTC's value has plunged 87% from its all-time high.
Coinbase shares tumble to record low.
Shares of the U.S-based crypto exchange Coinbase have fallen to a record low since its debut in April 2021.
According to Yahoo Finance, COIN fell below $40 on Dec. 11 and has traded below that mark since then. During the last 24 hours, its value dropped by 9.18% to $38.69 and over 20% within the previous 30 days. In 2022 alone, the stock's value has declined by more than 80%.
At its peak, Coinbase shares traded for as high as $342.
However, despite its poor price performance, Cathie Wood's Ark Invest has continued to purchase shares of the crypto exchange. The investment firm reportedly bought over 75,000 COIN shares for over $3 million.
Bitcoin miners stock down.
Bitcoin miners with a market cap above $1 billion during the 2021 bull run have seen their stocks decline by an average of over 80%, according to data shared by Anthony Power, a Bitcoin mining analyst with Compass Mining.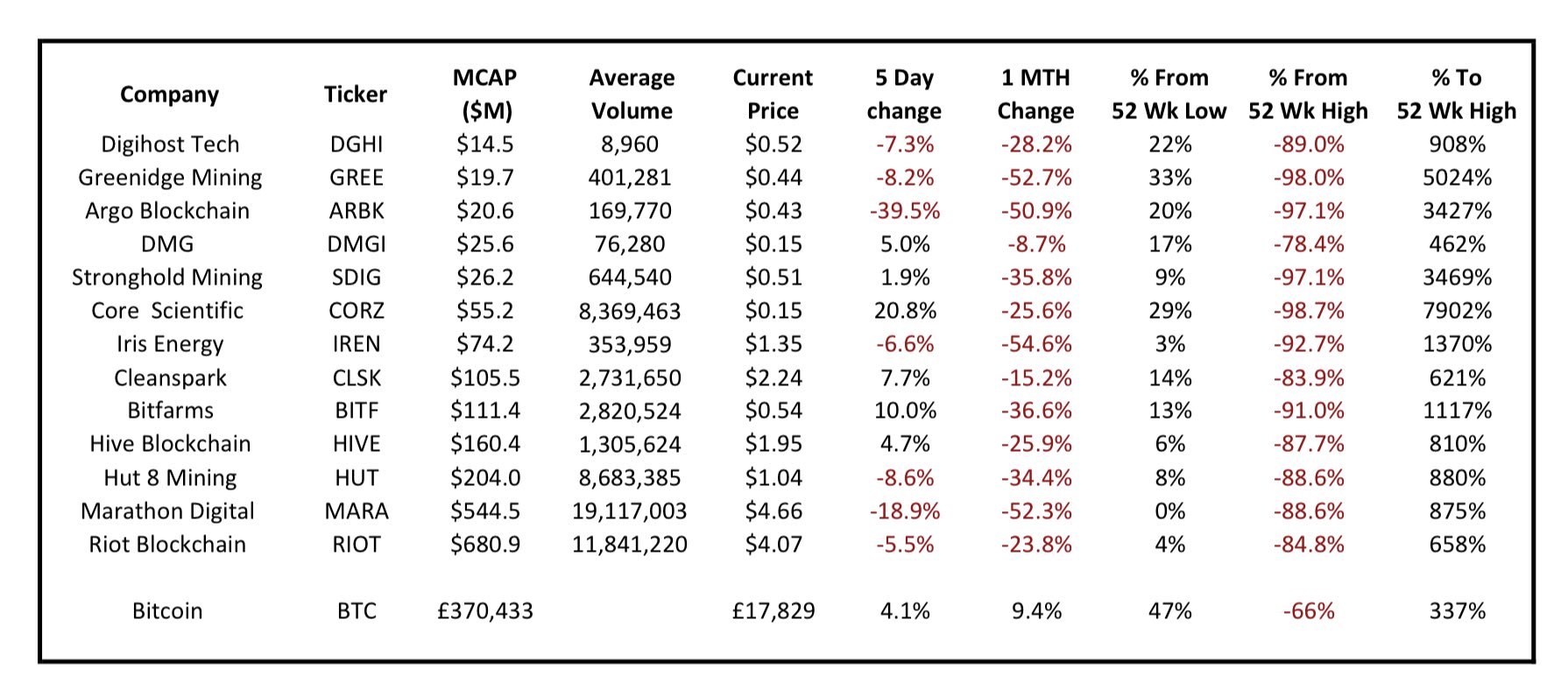 According to the data, Argo Blockchain is the worst hit, as its stocks have declined by 97.1% on the year-to-date metrics. In addition, a Dec. 10 CryptoSlate report revealed that the BTC mining firm might have accidentally revealed its plans to file for bankruptcy.
CryptoSlate research has also revealed that miners face difficulty because of BTC's low price. As a result, they have been aggressively selling their BTCs, and their holdings have plunged to a year-low.
A separate report showed that miners like Hut8, Riot, and Marathon increased their BTC holdings in November while Argo, Bit Digital, Bitfarms, and Cleanspark's BTC reserves shrank.
BTC is up 9% in the past 30 days
While Bitcoin-related stocks have struggled in the past year, the flagship digital asset has outperformed them despite weakened overall market conditions.
According to CryptoSlate data, BTC is up 2.2% in the last 24 hours to $17,833. Its value has risen by over 4% in the last seven days and around 9% in the previous 30 days.
Meanwhile, on the year-to-date metrics, BTC has declined around 60%, some 74% below its all-time high.