Wrapped Bitcoin (WBTC) supply on Ethereum (ETH) plunged by over 35% to 183,450 since Terra (LUNA) collapsed in May 2022, according to Glassnode data.
WBTC's market cap fell to as low as $3.10 billion in December 2022 from a peak of $13.03 billion in April 2022, according to CryptoSlate data.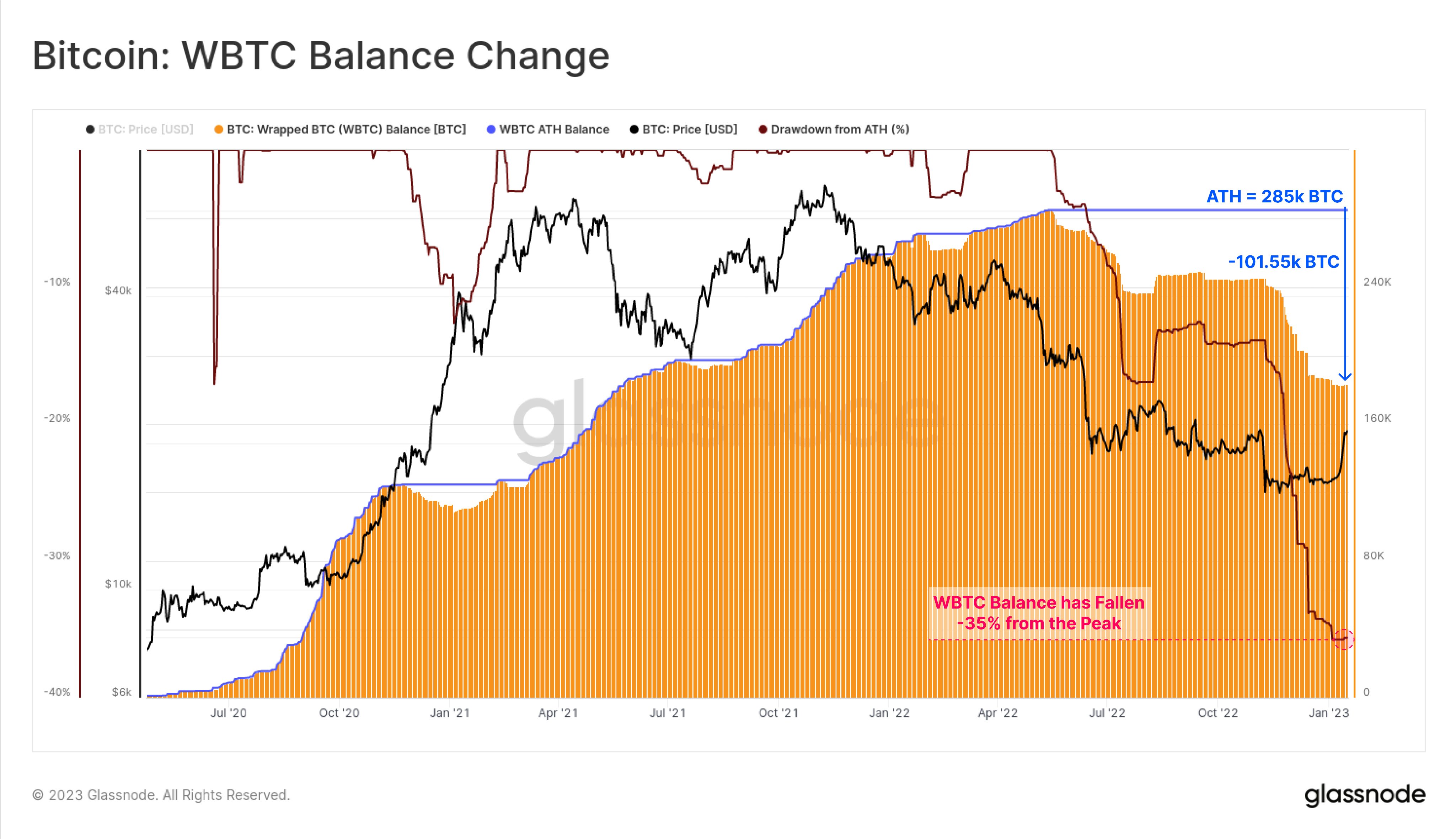 The chart above shows that WBTC's supply peaked at 285,000 in April 2022, when the flagship digital asset was trading at around $48,000. During this period, demand for the asset was relatively high as investors found a use for it in their Decentralized finance (DeFi) trades.
However, LUNA's collapse led to a contagion spread across several crypto firms and resulted in record-high liquidations among investors. At the time, whales like Celsius Network were reportedly redeeming their WBTC holdings — sending 9,000 WBTC to FTX in a possible OTC deal to meet its rising redemption requests.
The situation was further exacerbated when top WBTC merchants — Alameda Research and FTX —faced a liquidity crisis in November 2022.
WBTC started to de-peg under the assumption that its reserves were incomplete or held on the collapsing crypto empire  — the disparity between BTC and WBTC prices falling to 0.9774 on Nov. 25, 2022.
Meanwhile, the gap has since closed with relative calm returning to the market, but demand for BTC on the ETH blockchain has remained muted.
The asset's order book shows 180,447.6213 WBTC against 180,455.0500 BTC in custody as of press time.