Fears of a global recession have been pushing some investors to look for alternative markets to achieve better yields. The latest research from BestBrokers showed that NFTs could be the alternative market investors are flocking to, as the sector has seen its best quarter so far.
The first and second quarters of the year have seen the overall number of NFT transactions surpass the 11 million mark, with the last quarter closing in on 12 million NFT transactions.
The increase in the number of transactions is in direct contrast with the sharp decline in the USD trading volume NFTs have seen this past quarter. The onset of a bear market and the intense price volatility in recent months have wiped out over $1.3 trillion from the crypto market. And while both spot and derivatives trading volumes suffered, NFTs seem to be changing hands more than ever.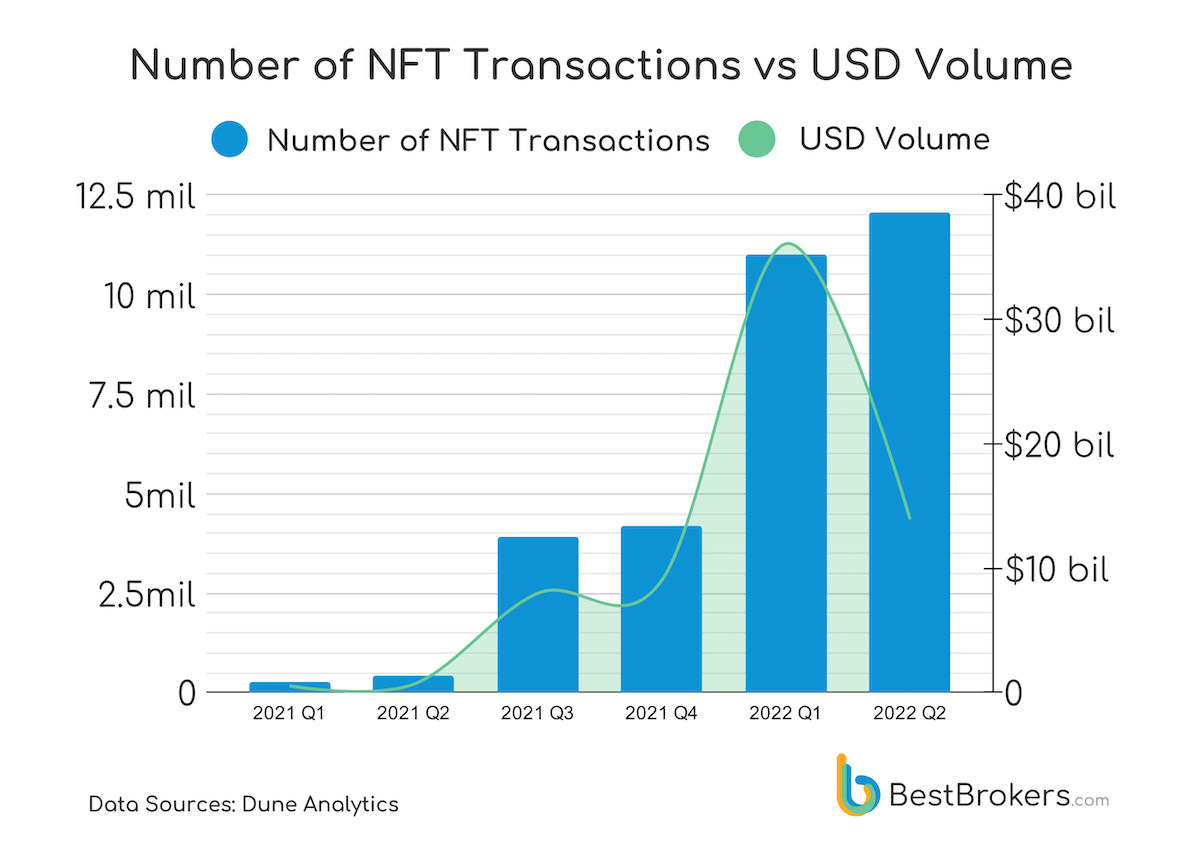 According to data from BestBrokers, there have been 12 million NFT transactions across the largest marketplaces, which include OpenSea, LooksRare, Rarible, SuperRare, LarvaLabs, and Foundation. The volume is a 9% increase from the 11 million transactions recorded in the first quarter and a 2,857% increase year-on-year.
Since they first broke into the mainstream in 2021, NFTs have seen their popularity explode. In December 2021, the number of NFT transactions reached 1.7 million — an increase of over 9,300% in less than 12 months.
Analysts believe that the rise in NFT trading, while global markets are down, shows that bulls are looking for opportunities even in the worst market conditions.
Alan Goldberg, an analyst at BestBrokers, said that despite rapidly dropping crypto prices, NFTs still offer great opportunities for long and short-term trading.
"With the whole global economy going down in 2022, we see an enormous upsurge in the number of NFT transactions which means traders find it more appealing than the traditional assets in the current bear market."
Goldberg explained that the price dip is also an excellent opportunity for traders to acquire popular non-fungible tokens at a very low USD value. And with many investors expecting a bounce back in the future, the trades are bound to pay back.
"While a lot of analysts discuss crypto winter and a Bitcoin bear cycle, it is worth considering the fact that crypto-assets are not alone in this suffering and they are likely to bounce back together with the other markets. Traders' interest shifting in some way to the NFT market only proves that the blockchain technology is here to stay and it should not be written off," he added.