FTX collapse has birthed renewed interest in self-custody among retail users, as many are now moving their Bitcoin (BTC) to cold wallets.
Glassnode data, as analyzed by CryptoSlate, showed that retailers are taking out their coins from exchanges at the most aggressive rate, with the withdrawals coming mostly from Crypto.com.
Crypto.com is currently faced with increasing FUD following revelations that the exchange mistakenly sent 320,000 ETH to rival exchange Gate.io.
While CEO Kris Marszalek has addressed these concerns and revealed that the exchange was operating as usual, users remain apprehensive as they have been massively withdrawing their assets from the firm-Etherscan data shows that one of the exchange's public ETH wallet processed nearly 90,000 transactions on Nov. 13.
BTC withdrawals across exchanges at record high
Glassnode Insights further revealed that the aggregate  BTC balance across exchanges fell by 72,900 BTC over the past seven days –one of the largest net declines in the history of the market. The previous times the crypto industry witnessed this level of withdrawals were during the 2020 bear market and 2022's Terra LUNA-influenced crash.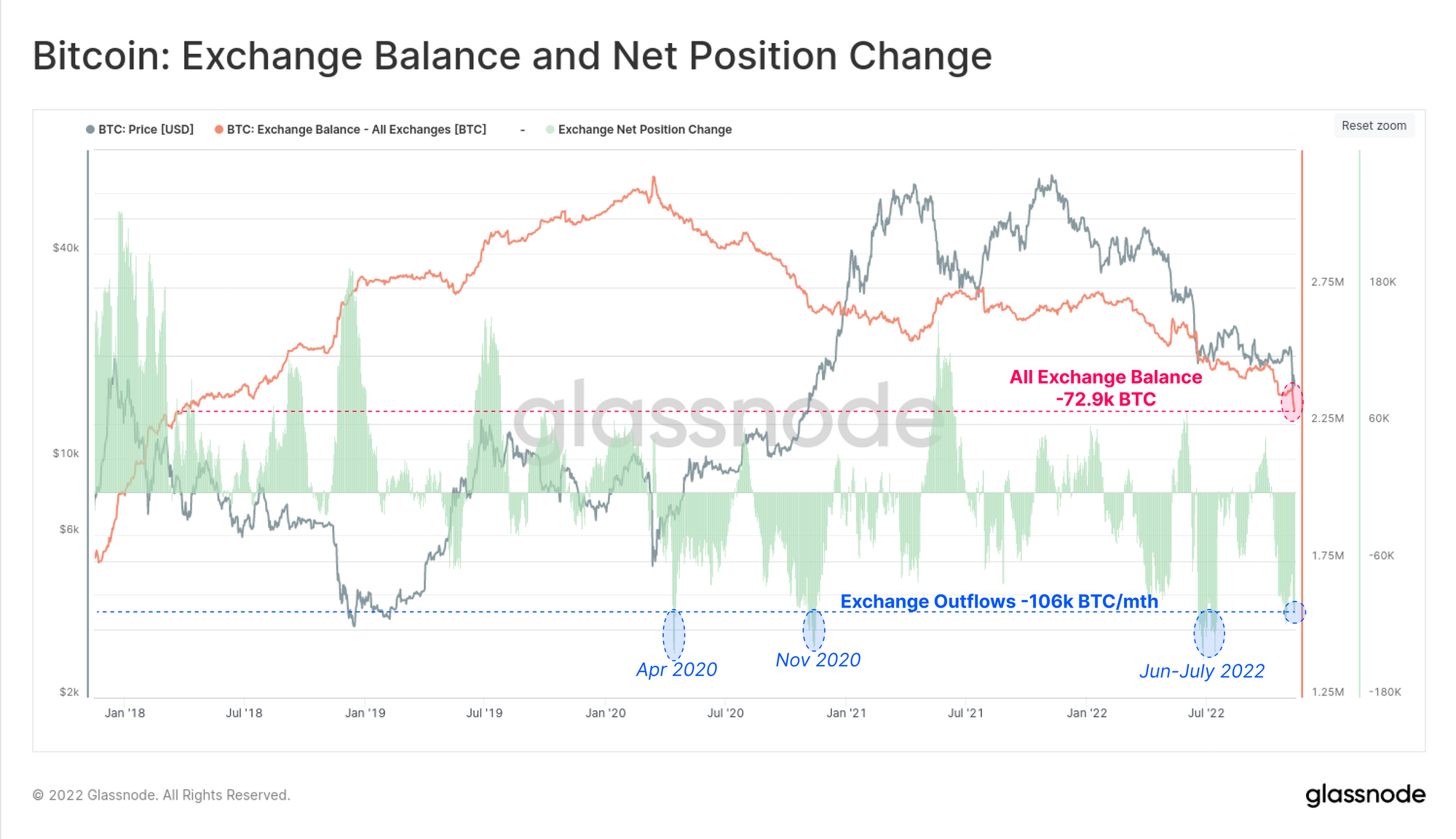 Additionally, over 1 million ETH left exchanges over the last seven days. Glassnode noted that this was the largest 30-day decline since the DeFi summer of September 2020, when demand for ETH as collateral in smart contracts was at its peak.
Community stakeholders push for self-custody
Several crypto stakeholders have urged the community to self-custody their assets following FTX's implosion.
Binance CEO Changpeng Zhao said self-custody was a fundamental human right. CZ advised his followers to start with smaller amounts in order to learn the ropes, as mistakes here can be costly.
"Self custody is a fundamental human right. You are free to do it anytime. Just make sure you do do it right."
Ethereum educator Anthony Sassano also shared the same view, saying only those actively trading large sizes should have their assets on centralized platforms. He added, "(I) use a select few CEXs as fiat on/off ramps and use Ethereum DeFi for everything else (with self-custody of all of my assets)."
Meanwhile, the new wave of interest in self-custody has sent the value of the Trust Wallet token up by 113% in one week to a new all-time high of $2.48 on Nov. 14. The wallet became more popular after CZ tweeted about it while speaking about the importance of self-custody.